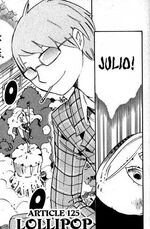 Julio is a member of Ark and a Forbidden Magic Law practitioner.
Characteristics
Edit
On the surface, when he is eating something sweet, Julio seems to be a friendly person. However, he formed a soul-contract with the sorceror-envoy, the Red Witch. Julio goes into withdrawal without candy, so Teeki used hypnotism to trigger his transformative Magic Law abilities. When his Magic Law is active, anyone he touches becomes cursed and the cursed person is covered in Host-Killer Lizards.
Ad blocker interference detected!
Wikia is a free-to-use site that makes money from advertising. We have a modified experience for viewers using ad blockers

Wikia is not accessible if you've made further modifications. Remove the custom ad blocker rule(s) and the page will load as expected.